Dear Chuck,
Thank you for your very dedicated and detailed work. Your thoughtful ideas and careful work really shows and is much appreciated. We really love our home and all of your many many good ideas and execution. Thank you for keeping everyone on track and task. You helped everything run very smoothly.
With appreciation,
Cindy and Larry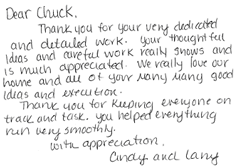 Chuck, Aicha & Megan:
What can we say — except you have warmed our hearts. We are truly grateful to you for you kindness and thoughtfulness, not only at the very end, but throughout the entire process. To say we love our new home is an understatement and you will always be remembered as we grow old on Draper Street.
Love,
Linda & Jim
Dear Chuck,
How nice of you! Thank you for the Munch Box cookies housewarming gift. My N.C. grandchildren will be here for a week starting Dec. 19. We'll enjoy them together. Dick and I are delighted with the millwork design of our home. It truly is beautiful. We appreciate your creative efforts. Thank you for helping to make our house a lovely home. FYI I put a two tone burgundy stripe wallpaper above the chair rail in the dining room. Originally I intended to paint the bottom with color. However, I decided to carry over your theme of the white below the rail into that room, and I think it looks great! Thanks again for your good work.
Enjoy the holidays,
Margaret & Dick
Dear Chuck,
Thanks for all of your guidance throughout our window project. We are thrilled with the design and grateful to have had you overseeing the project. Many of our neighbors (and family members) have already complemented us on the window design. We have sung your praises to all of them! We'll let you know about the kitchen. First, we have to have a healthy baby and experience the joys of sleepless nights, bottles, etc. But at least we will enjoy being able to open our windows and get fresh air into the house for all to breathe!
Thanks again!
Ed
P.S. Your plans for Deb and Larry's "Rennervation Part II" look outstanding. We can't wait to see the final result.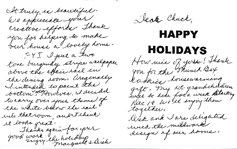 Dear Chuck,
Just a note to say "Thank You" for all! What a nice surprise to find that package in the mail – we love the books – you know my weakness! The house turned out beautiful. It was definately worth going that extra mile. We enjoyed working with you. Please drop by & see the summer version of our house in southern France.
Thanks so much.
Sincerely
Kathryn & Lowell
Dear Chuck,
Both your lovely food basket gift and personal / professional services warrant this formal and sincere thank you note.
Since Christmas Eve, I've been loving every kitchen experience, even dishwashing! You helped create the heart of our home and we will be forever grateful for all of your wonderful contributions!
Please come visit when time permits. And know that I'll be a promoter of Renner Design Associates!
Sincerely, Anne, Eric, Brian + Kevin